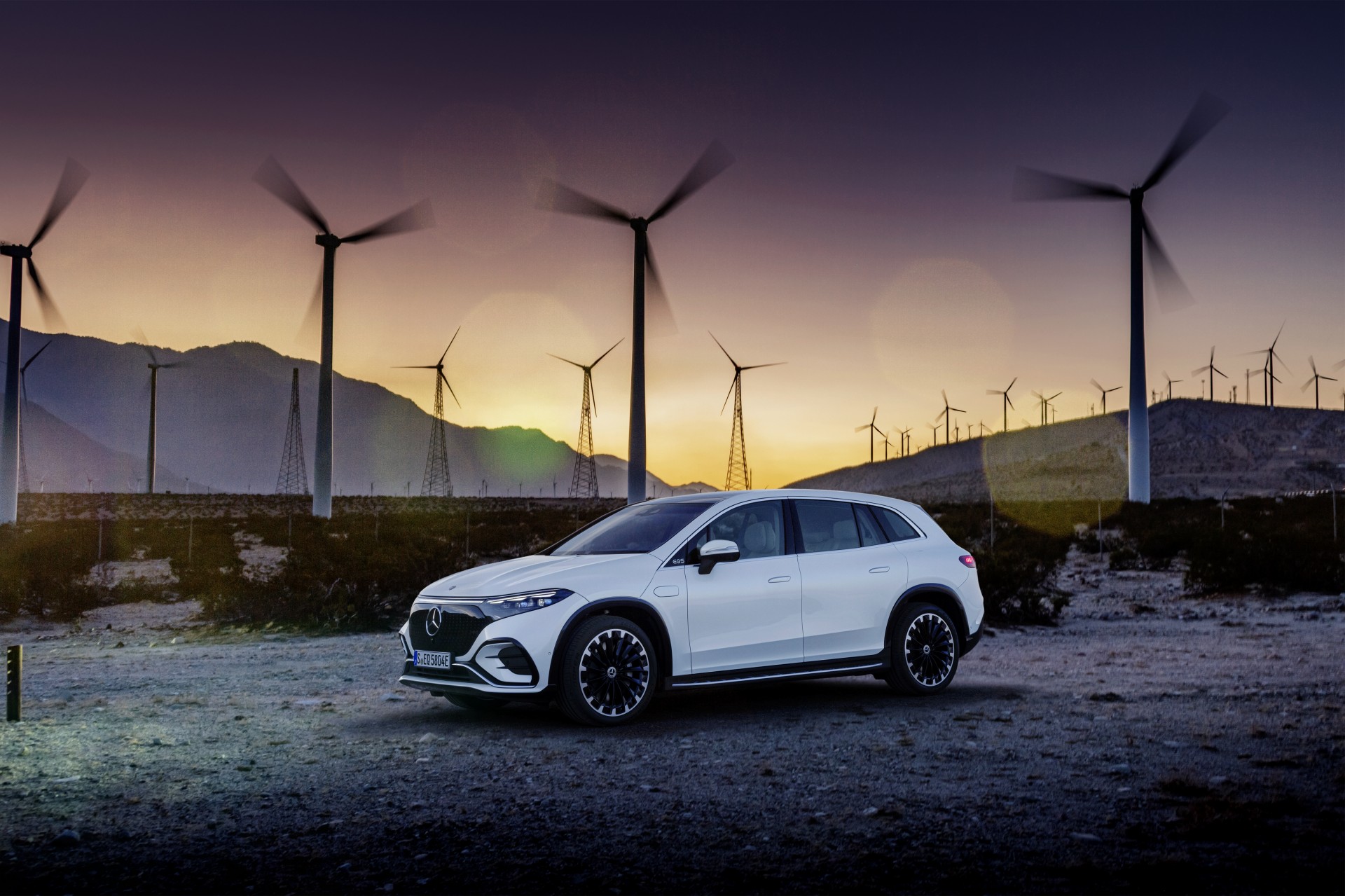 Just recently Mercedes-EQ presented their new premium class electric SUV – the EQS SUV. The SUV offers plenty of space, comfort and connectivity for up to seven passengers in its avant-garde, luxurious interior. Thanks to powerful electric motors, responsive 4MATIC all-wheel drive and an intelligent OFFROAD driving mode, the EQS SUV is also capable of tackling light terrain with ease.
Depending on the vehicle equipment and configuration, WLTP ranges of up to 660 kilometers are possible. A lithium-ion battery with up to 12 cell modules is installed in the EQS SUV. With this generation of batteries, a major step has been achieved in terms of the sustainability of the cell chemistry: the optimized active material consists of nickel, cobalt and manganese in a ratio of 8:1:1. Mercedes‑Benz issues a battery certificate for its high-voltage batteries, and thus a performance guarantee to customers: A term of 10 years or 250,000 kilometers with a remaining capacity of 70 percent.
The new EQS SUV shares the long wheelbase (3210 millimeters) with the EQS Saloon, but is over 20 centimeters higher. Up to four golf bags fit in the boot. A third row of seats with two additional individual seats and extensive comfort features for all passengers is available as an option.
The EQS Saloon is the current aerodynamics world champion for production cars. Its purpose design with smooth underbody and usually closed radiator shutter was a good starting point for aerodynamic measures on the EQS SUV. The optimisation of SUV-typical flow details led to a hitherto unique combination of spaciousness and aerodynamic efficiency.
The EQS Saloon was the first model series from Mercedes-Benz in which completely new vehicle functions can be activated in several areas via over-the-air updates (OTA). With the EQS SUV, this offer is significantly expanded. For example, Trailer Maneuvering Assist or MBUX (Mercedes-Benz User Experience) Augmented Reality Navigation can be activated at a later date.
With the EQS SUV, Mercedes-Benz is taking a major step towards zero-emission mobility and is moving a step closer to fulfilling Ambition 2039. The model is produced in a completely CO2-neutral way. The EQS SUV puts real solutions for emission-free mobility, intelligent resource conservation and responsible circular economy on the road.
The AIRMATIC is standard equipment. In addition to the DYNAMIC SELECT modes ECO, COMFORT, SPORT and INDIVIDUAL, the 4MATIC versions feature OFFROAD, a further mode for off-road driving. Furthermore, rear-axle steering with a steering angle of up to 4.5 degrees is standard. It provides plenty of maneuverability in the city and agility over land. Optionally and also via an OTA update, a version with up to 10 degrees steering angle is available.
Mercedes me Charge is one of the largest charging networks worldwide: it currently comprises over 700,000 AC and DC charging points, including around 300,000 are in Europe. The new Mercedes me Charge function Plug & Charge makes charging the EQS SUV at public charging stations that support Plug & Charge convenient.
 The highlight of the interior is the MBUX Hyperscreen (special equipment). This large, curved screen unit spans almost from A-pillar to A-pillar. Three screens sit under a common cover glass and merge visually. The 12.3-inch OLED display for the front passenger gives them their own display and control area. 
The Dolby Atmos sound system takes the audio experience in the EQS SUV to a new level. Individual instruments or voices of the studio mix can be placed all around the listening area. A new kind of sound animation thus becomes possible: This is because while conventional stereo systems usually have a left-right dynamic, Dolby Atmos can use the entire space and create a 360-degree experience.
Learn more

To learn more information about the offered car equipment, we invite you to contact Mercedes-Benz professionals.
Leasing and insurance

It is possible to receive an individually developed Leasing and Insurance offer.
Your car can be a down payment!

Remember that when you buy a new Mercedes-Benz passenger car or commercial vehicle from us, as well as a new slightly used car, your existing car can be used as a down payment. Contact our specialists.
Antons Trofimovs
Used Car Sales Consultant
Gatis Mitriķis
Lietotu automobiļu pārdošanas/ iepirkumu speciālists