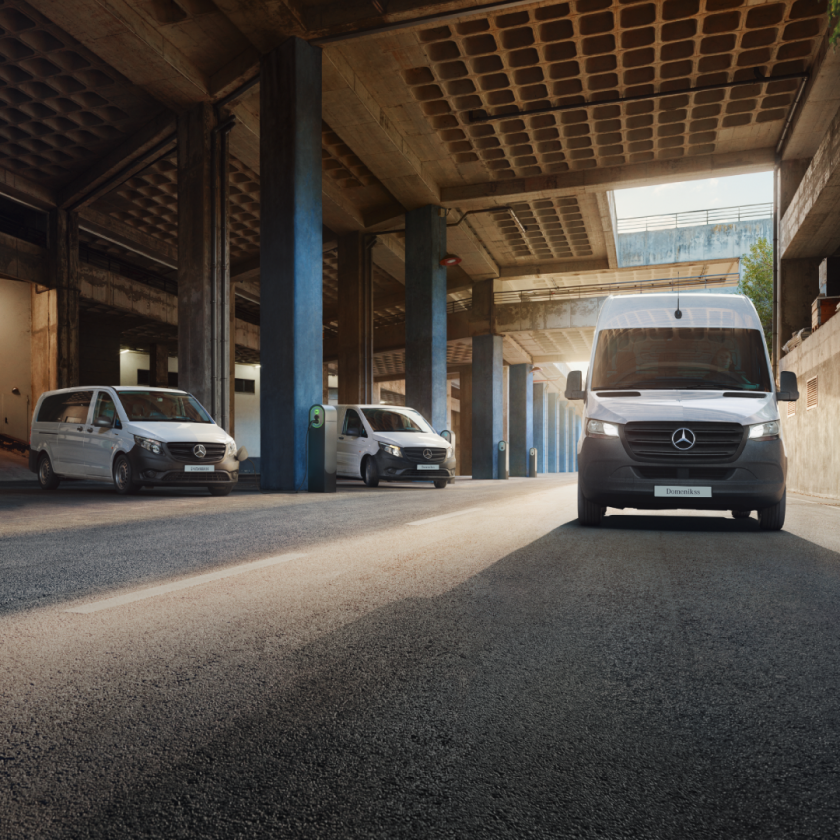 The technological surge the automotive industry is experiencing today reminds us of the innovative achievements 130 years ago when Mercedes-Benz was founded. The future of transportation is electric, and we can already enjoy it. If you decide to add any of the Mercedes-Benz electric vans to your company fleet, be it the eSprinter or eVito, you will get not only the same capacity as that of vehicles with internal-combustion engine, but also a completely new driving experience and a whole array of advantages. If your everyday business involves predictable routes within a city, Mercedes-Benz electric mobility is exactly what you need.
Discover the benefits of Mercedes-Benz electric vehicles
All electric vans by Mercedes-Benz, including cargo vans and passenger vans, offer a number of valuable features to their owners.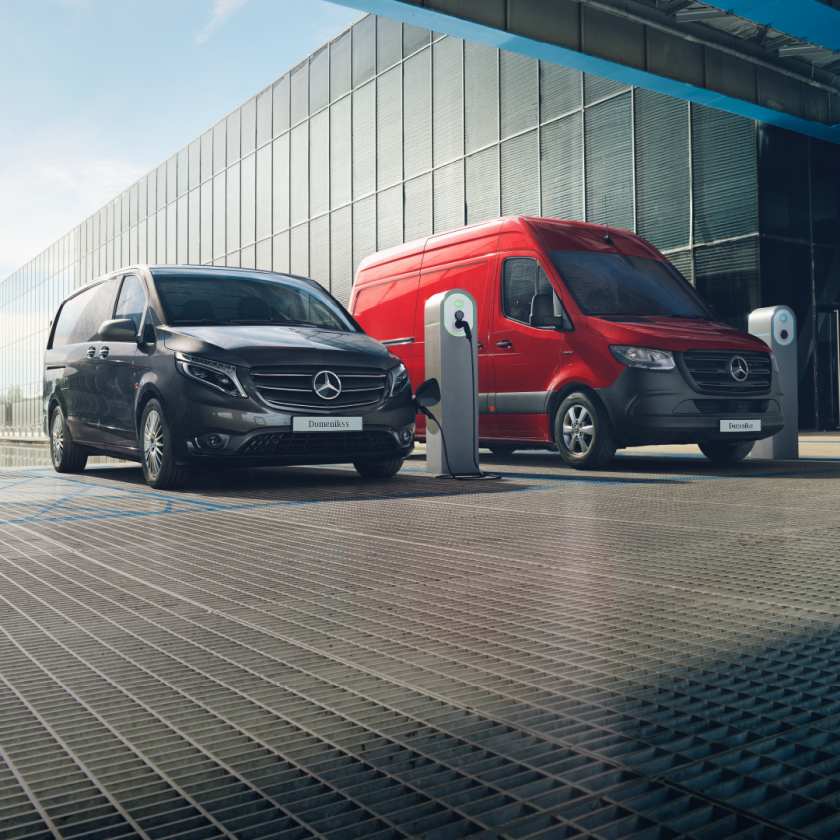 Lower operating costs
You'll notice the economy on day one. For one, electricity costs less than fuel. Two, electric vehicles already enjoy various advantages, including free parking, the ability to use public transport lanes, and tax breaks. In the future, there will be government subsidies and discounts to promote electric mobility, while vehicles with internal-combustion engines are expected to see restrictions or even prohibitions on entering cities.
Lower maintenance costs
Electric vehicles have fewer moving parts than vehicles with an internal-combustion engine. This is additionally helped by the energy recuperation system, because it reduces brake wear. This means spending less on regular maintenance and replacing worn-out parts. The manufacturer also offers a warranty, in that if the battery needs to be replaced within the first 6 years, or before 100,000 km travelled, it will be done for free.
Agility in driving
The almost inaudible operation of the electric drive delivers a very special driving experience. As you press the accelerator pedal of your Mercedes-Benz electric van, you will notice that the power of its high-torque engine immediately converts into an impressive increase of the vehicle's speed. No local emissions. Nothing but outstanding responsiveness, and virtually no noise driving.
No compromises
The battery is located under the floor of the vehicle, both in eVito, and in eSprinter. This means that they do not occupy any interior space, with no compromises made affecting comfort or capacity. The driver and cargo/passenger compartments of eVito and eSprinter can accommodate the same range of features as internal-combustion engine models.
Flexible options for charging
Thanks to their combined charging system, Mercedes-Benz electric vans can accept different charging options. You can charge the battery using public charging stations, using the mains at home or at work, or using the charging boxes installed specifically for this purpose. For example, Mercedes-Benz Wallbox Home quickly, safely and easily charges electric vehicles with a power of up to 22 kW.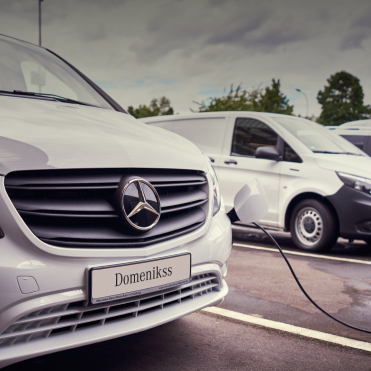 Positive image
Using an electric van means that, at least locally, you drive without emissions, and that your vehicle's engine does not require lubrication. If alternative sources of energy are used to generate the power that goes into these vehicles, their drives do not produce any CO₂ emissions. In this way, Mercedes-Benz vans will help improve your image.
Better power efficiency
With up to 5 recuperation modes and up to 4 driving programmes, you can choose between maximum comfort and maximum range.

Recuperation levels

Driving programmes

D auto Dynamic and predictable recuperation based on a safety assist, camera, and navigation system data

D+ The vehicle moves without recuperation

D- Additionally increased recuperation torque

D-- Maximum recuperation torque, making it possible to drive 'with one pedal'

C Full drive power, with a high heating and air conditioning power

E Optimum adaptation to range, with slightly lower power and torque, and adequate heating and air conditioning

E+ Maximum range, with lower engine, heating and air conditioning power

S Intended for sporty driving style at full power and maximum torque, as well as high heating and air conditioning capacity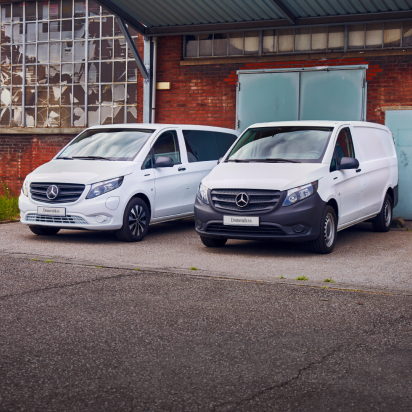 eVito: excels in transporting passengers, as well as cargo
In all its versions, eVito provides as much functionality, safety and convenience as you would expect from a combustion-engine Mercedes-Benz Vito. This mid-size vehicle can adapt to the profile of any business.
The maximum power of eVito Tourer PRO is 150 kW (204 ZS), with a torque of 365 Nm; long and extra-long versions of the vehicle are available, with 60 kWh and 90 kWh battery capacity. eVito has enough space for up to 8 passengers, in addition to the driver, and the layout of these seats can be customised to specific needs, be it everyday use, or family outings. The range of assist systems this vehicle has is unparalleled in its segment. In addition to the assist systems provided in the standard version of eVito, you can also get an optional driver assist system package, the DISTRONIC active distance warning system, and a rear-view camera.
eVito Tourer PRO with a 60 kWh battery

eVito Tourer PRO ar 90 kWh akumulatoru

Full weight of the vehicle: 3500 kg 

Range: up to 239 km

Power consumption: 26.7 kWh/100 km

Charging time

0 to 100% at 11 kW charging power: approx. 6.5 hours
10 to 80% at 50 kW charging power: approx. 50 minutes
10 to 80% at a quick-charge direct-current station with a power of 80 kW: approx. 35 minutes
3 drive programmes: E+, E and C

5 recuperation modes: D--, D-, D, D+ and D auto

Full weight of the vehicle: 3500 kg

Range: up to 370 km

Power consumption: 26.2 kWh/100 km

Charging time

0 to 100% at 11 kW charging power: approx. 10 hours
10 to 80% at 50 kW charging power: approx. 80 minutes
10 to 80% at a quick-charge direct-current station with a power of 110 kW: approx. 45 minutes
3 drive programmes: E+, E and C

5 recuperation modes: D--, D-, D, D+ and D auto
The particularly efficient electric motor of eVito Panel Van delivers a maximum of 85 kW (116 hp), and a torque of up to 295 Nm. There is also a long version of the van, with a 6.6 m³ cargo compartment and a cargo area of up to 4.76 m², which can accommodate as many as 3 Euro pallets. The van allows the loading of cargo both through the passenger-side sliding door, and from the back, where the double door can be opened as far as the sides of the van and fastened. Optionally, a sliding door can also be added to the driver side. 2 rails in the cargo compartment help with fastening the cargo using additional slings and straps.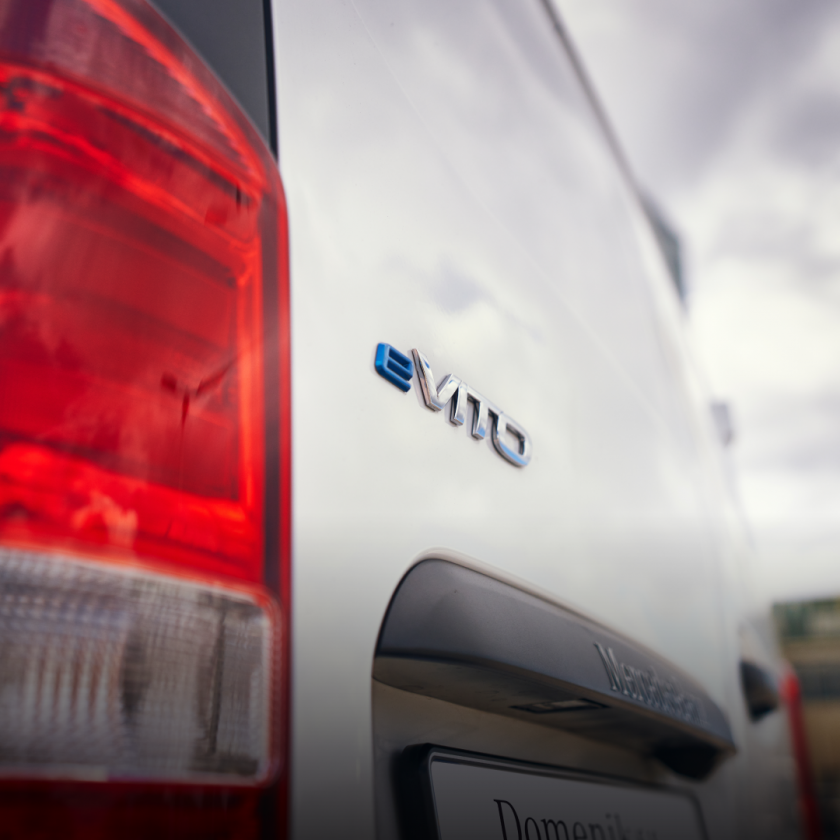 eVito Panel Van: cargo vehicle
Full weight of the vehicle: 3200 kg
Useable battery capacity: 35 kWh
Range: up to 184 km
Power consumption: 19 kWh/100 km
Time to charge from 0 to 100% at 7.4 kW alternating-current charging power: approx. 6 hours
3 drive programmes: E+, E and C
4 recuperation modes: D--, D-, D and D+

eSprinter Panel Van: a new era in cargo transport
The eSprinter cargo van brings as much reliability, efficiency and flexibility as we've seen in Sprinter vehicles for more than 25 years. Its effective power system delivers up to 85 kW (116 hp), with a maximum torque of 295 Nm. You can order a full standard-length (A2) electric van with a high roof, choosing either a 35 or 47 kWh battery. Just like the combustion-engine Sprinter, it has a 11 m3 cargo compartment. Depending on the capacity of the battery, the amount of weight the vehicle can carry ranges from 900 kg to 1040 kg. With the familiar extensive range of accessories, you can adapt it specifically to your transport needs.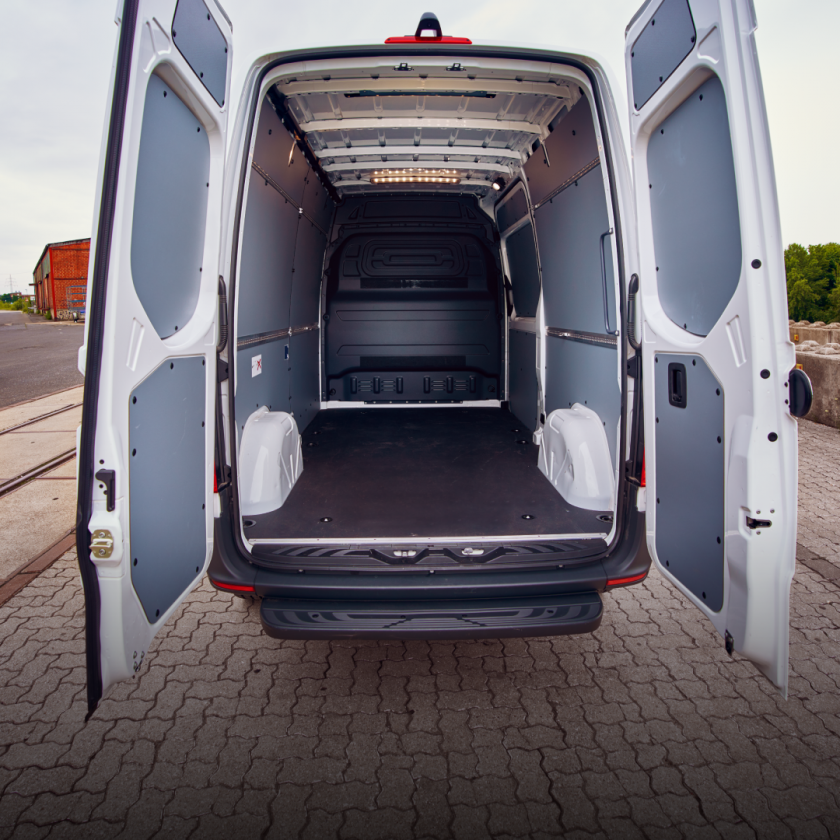 eSprinter Panel Van with a 35 kWh battery

eSprinter Panel Van with a 47 kWh battery

Range: up to 120 km

Power consumption: 37.1 kWh/100 km

Charging time

0 to 100% at 7.4 kW charging power: approx. 6 hours
10 to 80% at 20 kW charging power: approx. 70 minutes
10 to 80% at a quick-charge direct-current station with a power of 80 kW: approx. 20 minutes

3 drive programmes: E+, E and C

4 recuperation modes: D--, D-, D and D+

Range: up to 168 km

Power consumption: 32.5 kWh/100 km

Charging time

0 to 100% at 7.4 kW charging power: approx. 8 hours
10 to 80% at 20 kW charging power: approx. 90 minutes
10 to 80% at a quick-charge direct-current station with a power of 80 kW: approx. 25 minutes

3 drive programmes: E+, E and C

4 recuperation modes: D--, D-, D and D+